Autunno, the season of Autumn or Fall and part of our 'Four Seasons' Collection is a unique offering designed to maximize not only crema production, but also the sustaining of the crema foam.  With hints of berries in the top end, it also seeks to create a rich, creamy base uniquely delivered by beans imported from the Indian subcontinent.  The balance of these beans with their fruity counterpart is explicitly put together to deliver this thick satisfying espresso shot that lingers long on the palate.
Prompt & Reliable Shipping Through USPS

30-Day Money Back Guarantee

100% Satisfaction Guarantee
View full details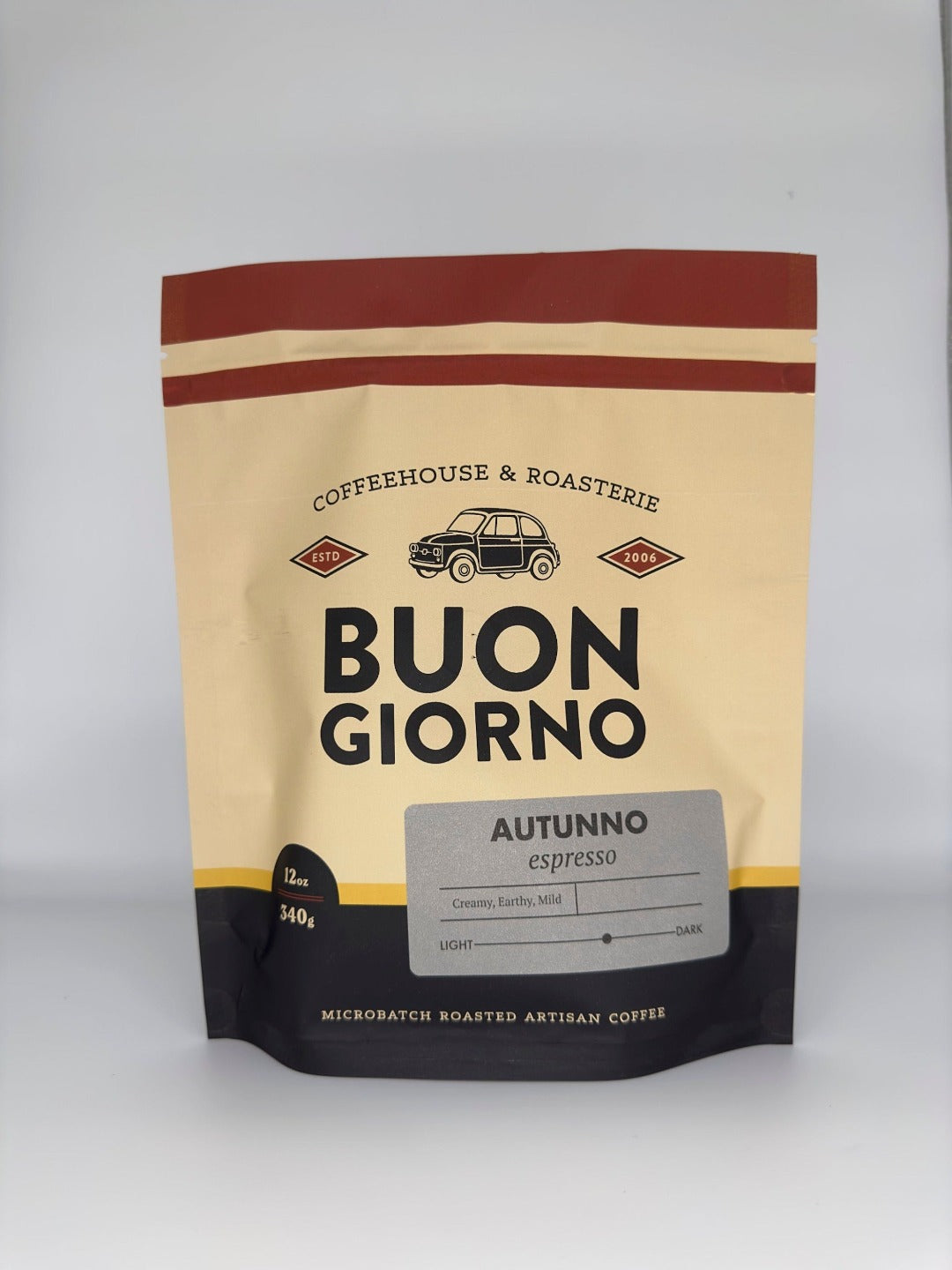 Brewing Suggestions
While our coffees are versatile and can be brewed in various ways, these are our
favorite methods to accentuate their unique flavors.
Drip Coffee Machine

COFFEE:&nbsp&nbsp&nbsp40 g

GRIND:&nbsp&nbsp&nbspMedium

WATER:&nbsp&nbsp&nbsp560 g

RATIO:&nbsp&nbsp&nbsp1:14

TIME:&nbsp&nbsp&nbsp4:30

aeropress

COFFEE:&nbsp&nbsp&nbsp25 g

GRIND:&nbsp&nbsp&nbspMedium/Fine

WATER:&nbsp&nbsp&nbsp210 g

RATIO:&nbsp&nbsp&nbsp1:14

TIME:&nbsp&nbsp&nbsp3:00

french press

COFFEE:&nbsp&nbsp&nbsp40 g

GRIND:&nbsp&nbsp&nbspCoarse

WATER:&nbsp&nbsp&nbsp560 g

RATIO:&nbsp&nbsp&nbsp1:14

TIME:&nbsp&nbsp&nbsp4:00
Coffee Enthusiasts Speak Out

300+ happy coffee lovers
"Simply put, BG's espresso roasts are the best in town. They may not be supplying their beans to every other business in town, but they really know what they're doing. I've experienced all four of their espresso blends numerous times, and I like them all in varying degrees.

- Joe T.

Decaf Espresso (12 oz)

"Easily the best coffee shop in downtown Fort Worth. Theespressois fantastic and the drip coffee is surprisingly delicious. Always my first choice when I need coffee."

- Mark P.

Espresso Inverno (12 oz)

"This place is amazing. Been drinking their coffee for over a decade. We moved to OKC years ago, but still can't find anything as good as their EstateEspressoBlend."

- Ryan B.

Espresso Inverno (12 oz)

"the best espresso drinks I've had this side of Europe (this coming from someone who travels to Italy every year).  They take their espresso seriously"

- Travis C.

Decaf Espresso (12 oz)

"Being a decaf coffee lover, Buon Giorno's Decaf Espresso has exceeded my expectations. Its smooth and balanced taste rivals that of regular espresso. Now I can enjoy a delicious espresso experience any time of the day, without the caffeine."

- Dan M.

Espresso Inverno (12 oz)
Try It Risk-Free
Fast and reliable shipping and delivery

30-day satisfaction guarantee

Excellent customer service and support